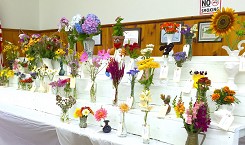 Saturday, August 14, 2021 is the 69th Annual Winchester Grange Fair and Flea Market. 9 AM - 2 PM, Winchester Grange Hall, 100 Newfield Road, Winchester Center, CT.
Contests, Exhibits, Bake Sale, Book Sale, Tag Sale, Kids Activities, Great Food, Flea Market, and more! Free admission and free parking!
Is your banana bread the talk of the town? Did your garden produce that perfect tomato or squash? There is plenty of time to enter an exhibit at the Fair. Flowers, baking, and fruit and vegetable exhibits will be accepted until 11:00 AM the morning of the fair. Anyone can exhibit - you don't have to be member!
Want to sell your wares? Cleaned out the garage and want to make some cash? We have spots available for vendors for our upcoming Fair/Flea Market. All types of vendors are welcome. E-mail: lecturer@winchestergrange.org or call 860-482-2733 for details.