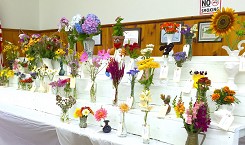 Saturday, August 14, 2021 is the 70th Annual Winchester Grange Fair. 9 AM - 2 PM, Winchester Grange Hall, 100 Newfield Road, Winchester Center, CT.
Contests are the spotlight for this year. Is your banana bread the talk of the town? Did your garden produce that perfect tomato or squash? There is plenty of time to enter an exhibit at the Fair. Flowers, baking, and fruit and vegetable exhibits will be accepted until 11:00 AM the morning of the fair. Anyone can exhibit - you don't have to be member! Please support us by entering out contests.
New: COMMUNITY TAG SALE
Spaces are FREE - no size limit! First Come, First Served. (No Food Vendors)
Outside the Hall and On the Green. The only thing we provide is the space, you provide any chairs, tables or coverings you might need. A donation to the Grange would be welcome but is not required.
To reserve your space: info@winchestergrange.org or (860) 307-1522
New: Special Contest for Kids: Celebrate Winchester 250!
For all boys and girls 13 and under. The annual Winsted Pet Parade has been held for many years. Help us to honor this tradition with our Kids & Pets Costume Contest. You and your pet should both be in costume. Pets MUST be kept on a leash. You are responsible for cleaning up after your pet. Judging at Noon in front of the Hall.
Prizes - 1st Place - $25.00, 2nd Place - $20.00, 3rd Place - $15.00
Also: Used Book Sale, Raffle Drawing, and more! Free admission and free parking!
E-mail info@winchestergrange.org for details.