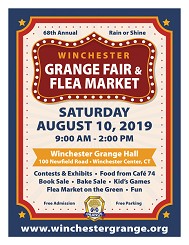 See the area's best fruits, vegetables and baked goods. Buy some summer reading at the book sale and visit the flea market on the scenic Winchester Center Green, featuring 20 local vendors. There will also be children's games, food from Cafe 74 and more.
All are welcome to enter an exhibit or to sign up for a space in the flea market.
Flowers, baking, collections and fruit and vegetable exhibits will be accepted until 11:00 AM the morning of the fair.